These pictures were taken and showing the progress of the building of my old 20×20 barn. Started in Feb 2007 and finished enough to use in March 2007. By April 2011 we switched to an insulated 12×20 barn and demolished this one (demolished because the April 2011 tornadoes took part of the roof and really messed it up.) The main reason we switched barns was because of the extreme hot summer (we spent two months straight above 100 degrees) and super cold winters (lows near 0 that were constantly freezing my water lines.) I also wanted to switch to a concrete floor and had to change to stacker cages with trays.
This barn measures 20×20. It has a 10ft peak, sheet metal roof. Wood siding all the way around. Currently it has 2 windows (no glass or screen, just cut out) with a door latched to each (to allow them to be closed when windy, cold or stormy.)
I have hanging cages that have waste that drops to the floor. It is cleaned out once a month and put into a compost pile, either to sell or private use in my garden.
Soon (when I'm able to find good quality) I'll add wooden pallets to walk on in the barn, like I'm used to having.
I have an automatic watering system, from Edstrom. It is the best investment! It is a huge time saver. I built a shelf about 8-9ft up to hold the water container. Putting it up this high is for 2 major reasons. First you want it up as high as you can get it, so the gravity and weight of the water pushes it through with good pressure to all of the rabbits. Second, to get it out of the way! I use a ladder to fill it each morning. I could connect a hose to it, but I have strong water pressure and in the past my hoses have actually burst. So for now I'm filling it manually. Still a million times better than filling each individual water bottle or crock, or having to worry about a leaky bottle or a rabbit dumping their water.

The only complaint is it freezes up in the winter time. We don't go below 10 degrees very often, and I usually don't have a problem if it stays above 25. I use warm or hot water in those mornings to flush through the system and it thaws it out quickly. On worse days I do revert back to using crocks, but it's only a handful of days out of the year.
I have electric in the barn, by way of under ground extension cable. When we used the 12×12 shed, we ran a cable underground (inside PVC pipe.) I now have that cable running over the ground from the 12×12 shed into the barn (temporary fix, I plan on digging it up and fixing it eventually.) I have a surge protector with a switch that acts as my "light switch" near the door and below my water tank shelf. I recently moved a small 13″ color TV with DVD/CD player combo out there to play DVDs or CDs whenever I'm out there for long periods of time. I like it out there, I may build a shelf for it too above my grooming stand.
My stand is a strange thing. I'm not even sure what you call it but it's perfect for rabbits! The previous owners of the house left it. It's plastic stacking shelves, from some sort of business or something. It has plastic lace walls on 3 sides, and a good opening to work at. I purchased a piece of carpet from a rabbit vendor, and viola, instant rabbit grooming table. The rabbits aren't able to run or escape too easily due to the 3 lace walls, it's very sturdy and I just LOVE it. I also have 3 shelves below the work table (due to stacking the pieces together.) It's at perfect height for me. I'll add a picture of it later.
Feb 11, 2007: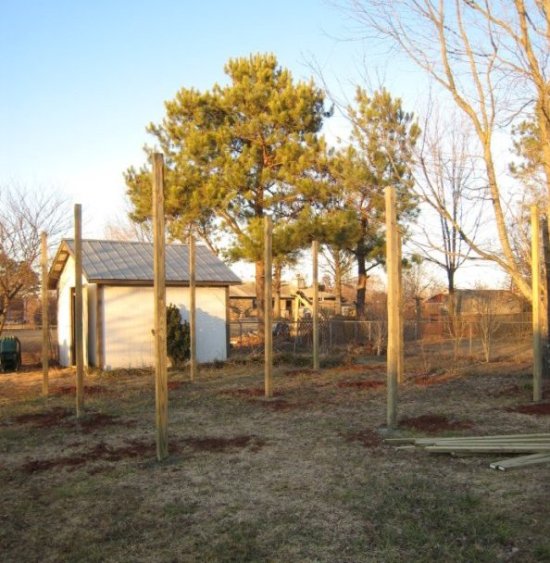 Here the posts just had been set.
Feb 17, 2007: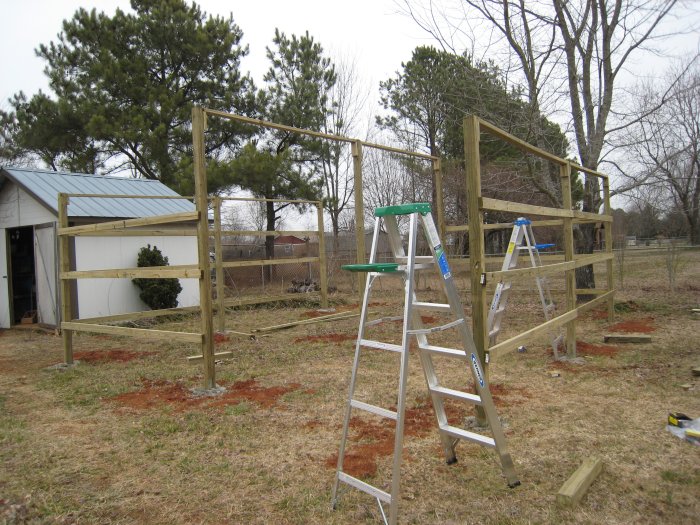 Here I started framing up the walls and preparing to start framing the roof. It was also on this day that I hit my thumb with the hammer and broke it. (Left thumb.) Today, over a month later, my nail is still black and it still hurts.
Feb 21, 2007: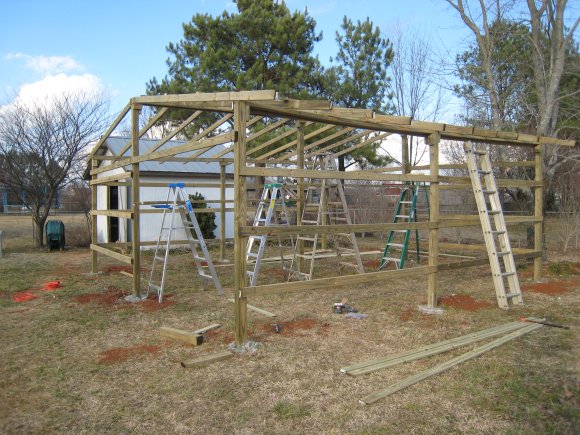 After breaking my thumb, and hitting it for the second time the very next day, I broke down and hired some help to work on the roof.
Mar 5, 2007: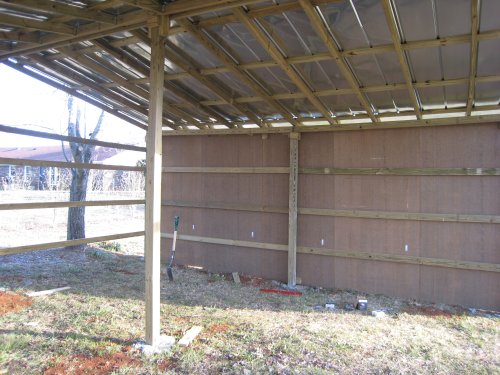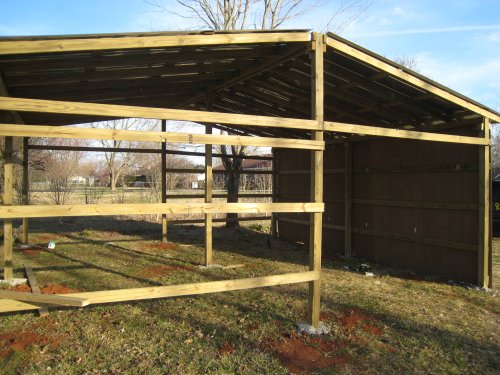 By early March the sheet metal roof was put on, and closing it in had begun. This is the first barn I've ever had that was enclosed with actual wood walls.
Mar 9, 2007: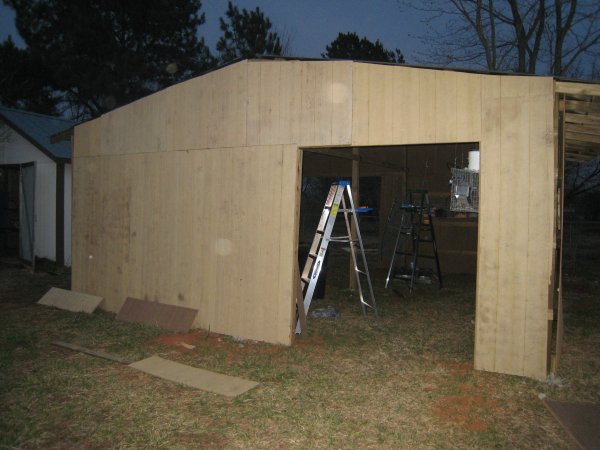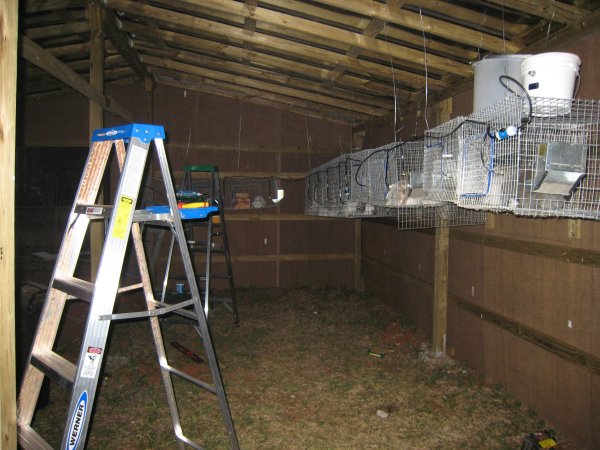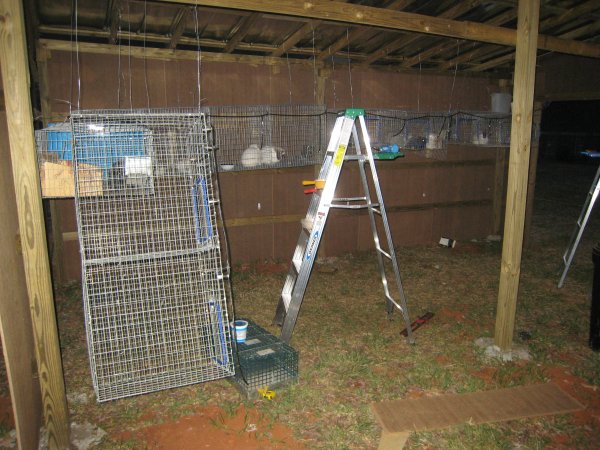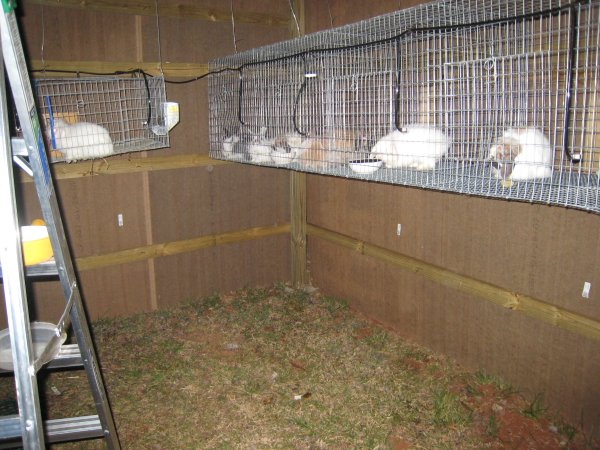 Four days later the siding is complete (minus the trim work for the corners, but that is going to help with ventilation this summer so I've let it go for now.) Also on this day I started hanging up all my cages and moving everyone in. I took my stacking cages and cut them apart and turned them into hanging cages, so I didn't have to buy any new wire or make any new cages.